ENGAGE: Evaluating prior knowledge and introducing the artificial selection experiment:

Preparation: Download and make copies of Artificial Selection Lab Student Handout. Download and review the Teacher PowerPoint file you will use to introduce this exercise to your students. Download Dr. Garland's video presentation. Download the PowerPoint presentation that Dr. Garland used in the video (this may be helpful for answering any questions students have after watching the video). NOTICE: Accessing Dr. Garland's video may take about 15 minutes. Here's the smaller memory version of that Video.

Presentation: Distribute Artificial Selection Lab Student Handout. Students draw a real or hypothetical organism that is a good runner. Have groups compare their drawings and share the commonalities. Record student responses on the board.

Evaluate student's prior knowledge of evolutionary processes and outcomes, including adaptations by including such questions as: "How does this feature adapt the organism to run fast?" "How might natural selection act on a population of organisms that lacks this adaptation?" You can push student's thinking by sketching stick figures ­ if students mention long legs, draw a stick figure with one long and one short leg. Ask "How might the length of this organism's leg impact its ability to run? Are there other factors that might be important?"

Ask students to write a paragraph to answer: "Explain how natural selection might act on a population of organisms that lacks this adaptation." Collect the papers to evaluate the student's prior knowledge. Use the student responses to identify misconceptions that need to be clarified or concepts that require additional instruction/clarification.

EXPLORE A: Learning about experimental approaches to studying evolution:

Presentation: Explain that you will be showing a video of a research scientist who studies experimental evolution. In his experiment, he has modeled natural selection in the laboratory.
Show the Video of Dr. Garland's presentation about the artificial selection experiment.
NOTICE: Accessing this video may take about 15 minutes. Here's the smaller memory version of that Video.

Explain:
Ask students to discuss the following questions and then write a paragraph to summarize their learning:
1. What do you think are the most important differences in the bodies of the High Runner mice compared to the controls? Explain why you think these are important.
2. What differences might you expect in the legs of a High runner mouse compared to a control?
3. Why do you think that an experimental approach to the study of evolution might be valuable?

EXPLORE B: Using Inquiry to study the effect of artificial selection on leg bones of mice: Developing a hypothesis, designing the method and performing the measurements:

Preparation: See Materials and Teaching Strategy above ­ Measurement Techniques and Using The Data Sets.
1. Artificial Selection Lab Teacher PowerPoint
2. Artificial Selection Lab Student Handout for Image J and student computers preloaded with Image J freeware and femur image folders.
OR
3. printed femur images, rulers, and graph paper (see final slides in the Teacher PowerPoint for instructions)

Presentation: Distribute the Artificial Selection Lab Student Handout and show the Teacher PowerPoint, which summarizes the steps of the experimental design process. Alternatively, you can also display the Artificial Selection Lab handout using a projector to display the images on the teacher's computer and discuss each step.

Ask students to discuss "What would you expect to be true about the legs of a good runner?" Have students discuss with their lab group. Have representatives of each group share the ideas with the class. [Students will generally mention leg length, muscles, and body size]. Prompt students to recall Dr. Garland's video presentation and ask them to discuss "Would the leg bones of mice bred for voluntary wheel running also show changes? What kind of changes might you expect?"

It is helpful to give groups of students actual femurs of mice so that they can visualize what the bones look like. A good source of mouse femurs is to dissect them out of owl pellets, which are quite inexpensive or are often already available at many school sites. Students become aware that the bones are actually tiny and that the photographs you will show later significantly magnifies the actual bones. Scientists in Dr. Garland's lab have already performed measurements on these bones using micrometers. Showing an actual micrometer at this point drives home the point of how difficult the technique actually is. If you don't have a micrometer readily available, Google Images is a good source of images. For example, an animated micrometer is shown
here

.

Show students the femur pictures and explain that they are photographs of leg bones of both selected and control mice.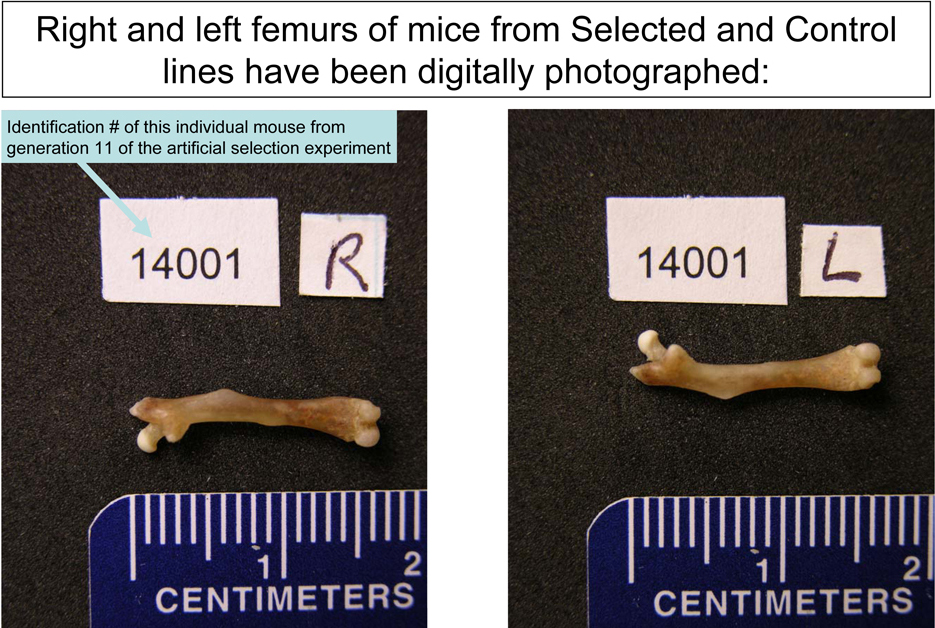 These bones are from mice sampled from generation 11 of the selection experiment. Emphasize how animals from the selected lines run more than the controls by pointing out the generation on the graphs below. The first graph shows data separately for the 4 replicate selected lines and the 4 non-selected control lines. The second graph shows the average values for the selected and control lines, as well as the average difference between them.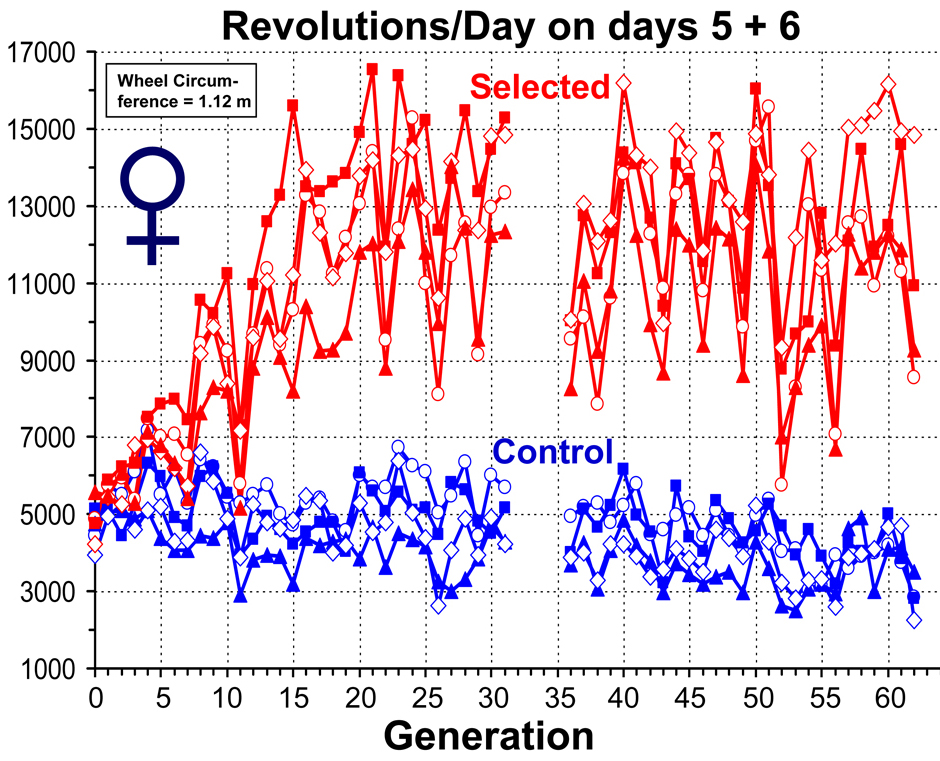 ]
]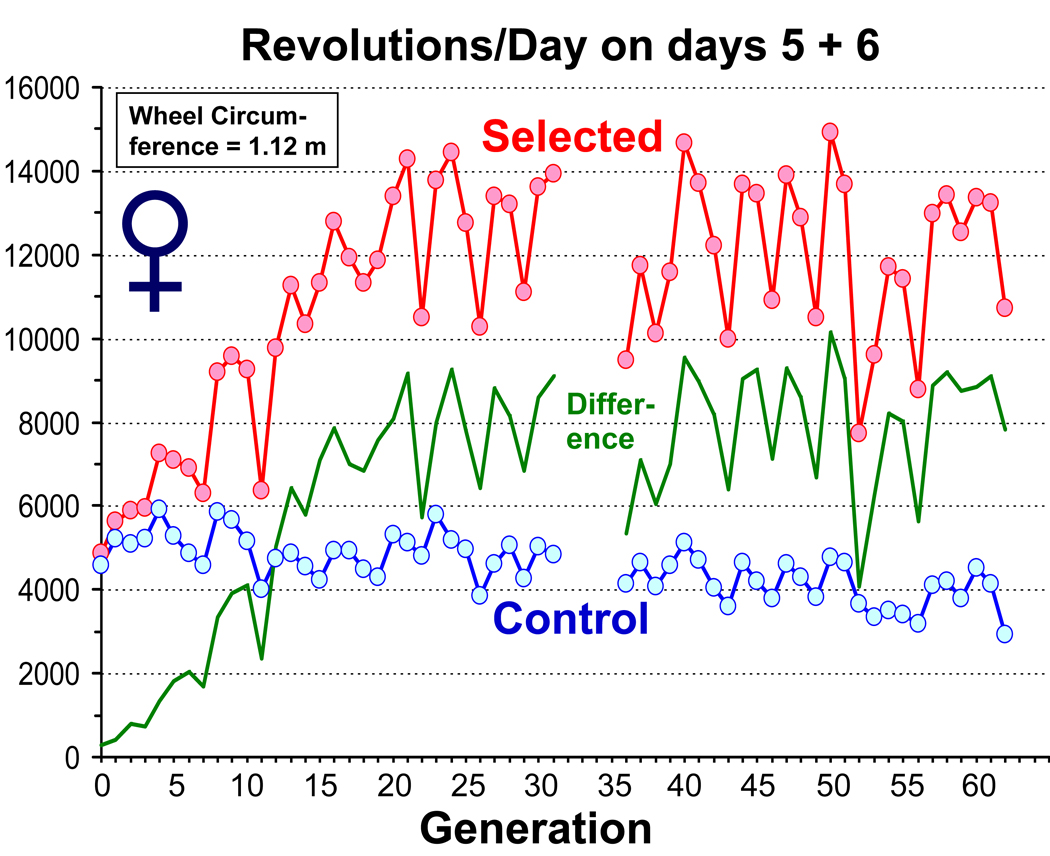 Developing a hypothesis: Prompt students to discuss the things which might be different in the legs of selected and control animals, and list them in part A of their lab handout. Students must then decide what they will measure on the femur pictures and record it in Part B of their lab handout. If students are working in groups, the decision must be made collaboratively. [Occasionally students will list changes in Part A which cannot be determined using the available samples. Remind them that they need to be able to measure something to be able to test this.] Then have students record their hypothesis. The if-then format is not encouraged. Just be sure that it provides a tentative explanation that can be tested, or describes a possible interaction that can be tested.
Developing a Method: Tell students to decide how they will be measuring the bones. Demonstrate measuring femoral length in different images using different landmark points. Ask if this would be a good way to collect data. What is wrong with it? How could you improve it?? Students will readily correct this technique. On their lab handout, have them indicate how they will measure the samples by drawing a line on the image.
Performing the measurements: Students can measure the samples in two different variations: automated, using Image J freeware and manual using direct measurement of images.
Preparation for automated measurements: Ensure that all student computers are preloaded with Image J and the folders containing selected and control samples. It avoids confusion to have separate folders for control and selected mice. If you have arranged for cross-curricular instruction, then have flash drives available to store the data collected.
Procedure for automated measurements: Refer students to the instructions for using Image J on their handout. Guide students through the steps. Demonstrate the technique on the teacher computer using a projector. Remind students to select summarize to display average measurements after finishing to display the averages. Image J files are saved as Excel files, so it is easy if you and your students choose to save the data for later analysis in math or computer classes. (See extensions and variations­ cross-curricular options below.) Cautionary note: Students will not be able to use this feature if they measure both control and selected data sets together. The summarize feature averages all the samples in the data set.
Preparation for manual measurements: Print images (four per page works well). The images can be laminated for repeated use. Mark the back of each image so students can distinguish selected and control samples, as well as individual mice. Prepare a folder for each lab group containing images from selected and control animals. Have metric rulers and calculators available.
Procedure for manual measurements: Distribute manila folders containing a selection of printed images from both selected and control animals. Students can successfully measure 8 images each and then compile their results with those of three other students in their lab group. You can adjust this as necessary; however, it is unrealistic to assume that all the available photographs can be measured. If all the students have measured the same features (for example, femoral length), then the class data can be compiled.
Optional math extension for manual measurements: (see Extension section) Remind students that the measurements they have made do not represent actual lengths of the femurs. Compare an actual mouse femur with the image, either on an overhead projector or a doc cam. Ask students how they might use the measurement they made to calculate the actual size of the bone. Offer an extra credit option for students to calculate the actual sizes of the femurs. Ask students to defend the validity of using values that are not corrected for magnification in forming their conclusion.

EXPLAIN: Presenting the data and writing a conclusion.
Results and Conclusion: Ask: What would be the best way to graph these results? [Students may quickly respond with "bar graph" ­ if students are struggling ask: Name some different kinds of graphs. Which would be the best kind to use to show the results from this investigation?] Use the Artificial Selection Lab Teacher PowerPoint to describe the required elements. Student groups graph their results on poster paper, white boards or overhead transparencies and share the results with the rest of the class. Frequently, multiple groups will measure leg length and get different results for selected and control groups. Lead discussions where the class analyzes why these differences might occur (e.g., sampling error).
Ask students to brainstorm what things would belong in a good conclusion. Gather the student answers and list them on a poster paper. Edit the list as a class and post it in the classroom for student reference as they write their conclusion piece. Alternative option: Review the Artificial Selection Lab Teacher PowerPoint panel describing the required elements for the conclusion.